About FBC Kids
ABOUT FBC KIDS
FBC has two Sunday morning services at 9:20 and 11:00 a.m. FBC Kids offers age-specific programs for nursery, preschool, early elementary (K-grade 3), and preteen (grade 4-6) children during our Sunday morning services.
In our weekly teaching and activities we will be following the Holy Bible - Genesis through Revelations. We will also be utilizing some great interactive resources like Betty Lukens Bible Felt Stories (flannelgraph), object lessons, science experiments, games, and crafts. This is a customized Jesus experience with a goal of leading our FBC Kids into a personal, life-long relationship with their Saviour, Jesus Christ. You may hear flannelgraph (Betty Lukens) and think what is that?! Or you may think WOW that was popular 30 years ago but isn't that a little out-dated?! Our plan utilizes this staple program, which is completely new and never seen before by any of our children. Kids take active parts of the story telling and engage wherever possible.
Doors open 10 minutes prior to each service. Parents must be present to check-in and check-out their children. Parents of elementary-aged children do not need to stay in the building during FBC Kids. Please be back to pick up your child by 10:30 a.m. or 12:00 p.m. for the respective services.
Our God-focused experience is designed to be different than a classroom where the focus is more on structure. Rather, the focus is relationship and discipleship which is why our small group leaders are weekly volunteers that can really get to know the kids in their small group, invest in connecting with them, and model an authentic relationship with Jesus for them. In addition to our Sunday morning programs, FBC Kids puts on Family Events throughout the year to help families connect in fun environments.
Online Resources
Don't miss out on signing up for a free RightNow Media account with excellent programming for kids as well as youth and adults.
We also have parent resources available online to help you navigate whatever phase your child is in right now!
Social Media
Follow us on Facebook or Instagram to stay up-to-date on what is happening at FBC Kids.
Serve
Every child who attend FBC need someone like you in their lives to spend time with them, love them, and disciple what it looks like to follow Jesus. Our most valuable resource at FBC is the ability to show kids who God is and what he wants for them. You, who already know Jesus and have a heart for him, have been given a gift by serving with FBC Kids. We need a lot of volunteers to make FBC Kids happen! If you'd like to be a part of this AMAZING team, fill out our Serve form and indicate that you'd like more information about serving in FBC Kids. If you are volunteering during one service, we want to make it easy for you to attend the other service. You are absolutely welcome to send your kids to FBC Kids twice. Children must be checked out between services.
illness
Out of respect for other families, please do not send sick children to FBC Kids.
registration & CHECK-IN
To ensure the safety of every child, we ask parents to accompany their child to the appropriate FBC Kids room to check them in at the beginning of the program each week. Pre check-in starts 20 minutes prior to the start of each service in the foyer. Doors open 10 minutes prior to the start of each service to drop off your kids in their classrooms. Upon check-in, each child will receive a check-in sticker, which they must wear on their person throughout the duration of the program. The parent will be given an accompanying sticker to keep with them and return after the service in order to check their child out of the program.
To save you time on Sunday morning you can pre-register your children by clicking the button below which will save you time when you arrive for FBC Kids. This button will also allow you to update your family or children's information. Once you have registered for our program through our Planning Center system you do not need to re-register each year – kids are simply carried forward until they graduate to FBC Youth!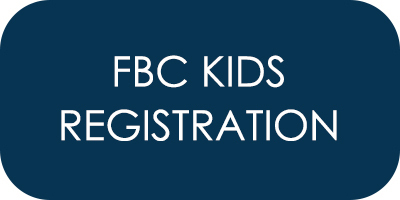 If your child has severe medical needs please also complete the Emergency Medications Request and Release Form as well.