About FBC KIDS
ABOUT FBC KIDS
Summer is quickly approaching and we will be joining together for a single Summer Combined Service on Sunday mornings at 10:00 a.m. from June 4 to September 3. FBC KIDS for children from birth to grade 6 will be offering during the service. Regular services at 9:20 and 11:00 a.m. resume with our Fall Kick-Off on Sunday, September 10.
---
FBC has two Sunday morning services at 9:20 and 11:00 a.m. FBC KIDS for children from birth to grade 6 is available during the 9:20 a.m. service with age-specific programs for nursery (birth-2 years), preschool, early elementary (K-grade 3), and preteen (grade 4-6). Explore what to expect for each age group by following the links on the right. You will also find the registration forms for each age group that you can complete in advance to save some time on your first Sunday!
In addition to the programs offered during the 9:20 a.m. service, nursery for children from birth to two years is also available during the 11:00 a.m. service.
Check-in opens 15 minutes prior to each service. Parents must be present to check-in and pick up their children. Parents of elementary-aged children do not need to stay in the building during FBC KIDS. It's up to you if you want to take in the service or run out to do some errands, grab a coffee, or whatever you'd like to do with a free hour on Sunday morning. Please be back to pick up your child by 10:30 a.m.
FBC KIDS exists to partner with families in demonstrating the message of God's story to children, and to fuel a deep and lasting faith in the next generation! We offer programs and activities designed to stimulate wonder, discovery and passion in children about the amazing God who created them.
At FBC we believe that children can grasp the essential truths of the gospel. Therefore, we seek to provide a creative and fun environment in which they can begin to develop a lasting relationship with Jesus Christ. We are not here to take the place of the family in a child's spiritual growth, but rather to combine our influence with that of the family to see an even greater result!
Online Resources
We know that everyone is not comfortable attending church in person while we are still in the midst of the COVID-19 pandemic! To help you connect, we provide a Sunday morning video produced by our curriculum provider - Orange - including music, a host, and the Bible lesson along with downloadable activities to do at home. These resources are available for preschool, kindergarten to grade 3, and grade 4 to 6.
We also have parent resources available online to help you navigate whatever phase your child is in right now!
Don't miss out on signing up for a free RightNow Media account with excellent programming for kids as well as youth and adults.
Social Media
Follow us on Facebook or Instagram to stay up-to-date on what is happening at FBC KIDS.
Serve
We need a lot of volunteers to make FBC KIDS happen! If you'd like to be a part of that, fill our our Serve form and indicate that you'd like more information about serving in FBC KIDS. We have a KidLounge that is open for children of volunteers during the 11:00 a.m. service. This allows parents to volunteer during the 9:20 a.m. service while their children are in FBC KIDS and take in the service during the 11:00 a.m. service while their children are in the KidLounge.
illness
Out of respect for other families, please do not send sick children to FBC KIDS.
registration & CHECK-IN
To ensure the safety of every child, we ask parents to accompany their child to the appropriate FBC KIDS room to check them in at the beginning of the program each week. Check-in opens 15 minutes prior to the start of each service. Upon check-in, each child will receive a check-in sticker, which they will wear on their person throughout the duration of the program. The parent will be given a matching sticker to keep with them and return after the service in order to check their child out of the program.
We are launching a new digital check in system. You can pre-register your children by clicking the button below which will save you time when you arrive for FBC KIDS. This button will also allow you to update your family or children's information.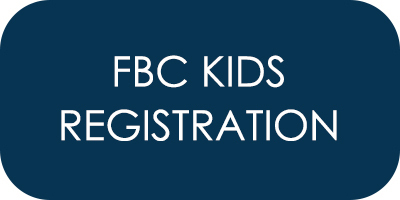 If your child has severe medical needs please also complete the Emergency Medications Request and Release Form as well.