Elementary
fbc kids elementary
FBC Kids is a Sunday morning environment for elementary aged children (K-Grade 6). During our 9:20 a.m. service, children have an opportunity to meet with a consistent small group, to learn about God in an age-appropriate way, and to grow in their understanding of what it means to have a relationship with Him!
Every month students learn about one specific Virtue and explore that Virtue through different accounts from the Bible each Sunday. Each Virtue is accompanied by a monthly memory verse, which helps children understand how God's word applies to their lives.
SMALL GROUP PRIZE PROGRAM
At FBC Kids, small groups work together to collect points towards a prize that they can enjoy together. Groups may cash in their hard earned points at various intervals throughout the year for different prizes, such as a popcorn party, an ice cream party, a gym hangout, or a morning movie marathon. These prizes are awarded during our regularly scheduled time on Sunday mornings, and families will be notified in advance when a group is ready to cash in their points for a prize so that families can plan for their children to attend.
Individual kids can earn points for their small group every week by:
Completing and returning their God Time devotional sheet that was handed out the previous week.
Bringing a Bible to small group.
Saying the current memory verse including the reference.
Displaying the Virtue through their behavior!
PARENT RESOUCES
To help keep parents in the loop on what their kids are learning at FBC Kids, every month we provide each family with a Parent Cue Sheet. These Parent Cues communicate four things:
the month's Virtue
the month's memory verse
the week's Bible story
a cue to prompt parents to connect with their kids each week.
By following these simple cues, based on Deuteronomy 6:7—"Impress them on your children. Talk about them when you sit at home and when you walk along the road, when you lie down and when you get up"—a parent can make the most of everyday moments to instill faith and character into the heart of his or her child.
COVID-19
Click here for information about COVID-19 and FBC Kids.
registration & CHECK-IN
To ensure the safety of every child, we ask parents to accompany their child to the appropriate FBC Kids room to check them in at the beginning of the program each week. Check-in opens 15 minutes prior to the start of each service. Upon check-in, each child will receive a check-in sticker, which they will wear on their person throughout the duration of the program. The parent will be given a matching sticker to keep with them and return after the service in order to check their child out of the program.
We are launching a new digital check in system. You can pre-register your children by clicking the button below which will save you time when you arrive for FBC Kids. This button will also allow you to update your family or children's information.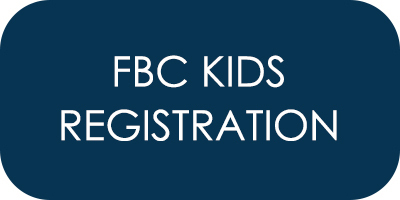 If your child has severe medical needs please also complete the Emergency Medications Request and Release Form as well.